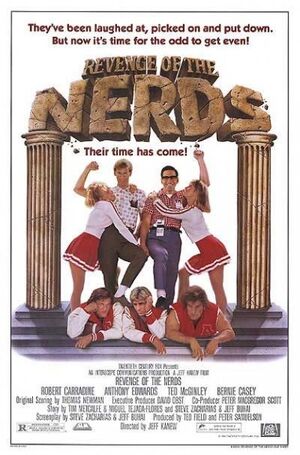 Revenge of the Nerds

Directed By:

Jeff Kanew

Produced By:

Ted Feild, Peter Samuelson

Written By:

Jeff Buhai, Miguel Tejada-Flores, Steve Zacharias and Tim Metcalfe

Distributed By:

20th Century Fox

Release Date:

July 20th, 1984

Running Time:

90 Minutes

Budget:

$8 million

Gross Revenue:

$40,900,000 (US) $19,500,000 (Rentals)

Followed By:

Nerds in Paradise
A group of nerds and outcasts join there own fraternity and get revenge on the jocks at the school.
Soundtrack
Edit
The film sold out at every theatre it played in.
Ad blocker interference detected!
Wikia is a free-to-use site that makes money from advertising. We have a modified experience for viewers using ad blockers

Wikia is not accessible if you've made further modifications. Remove the custom ad blocker rule(s) and the page will load as expected.